Tuning in to our variety show
For those of you newly arrived from Out of Left Field or GAMES World of Puzzles, welcome to The Rackenfracker!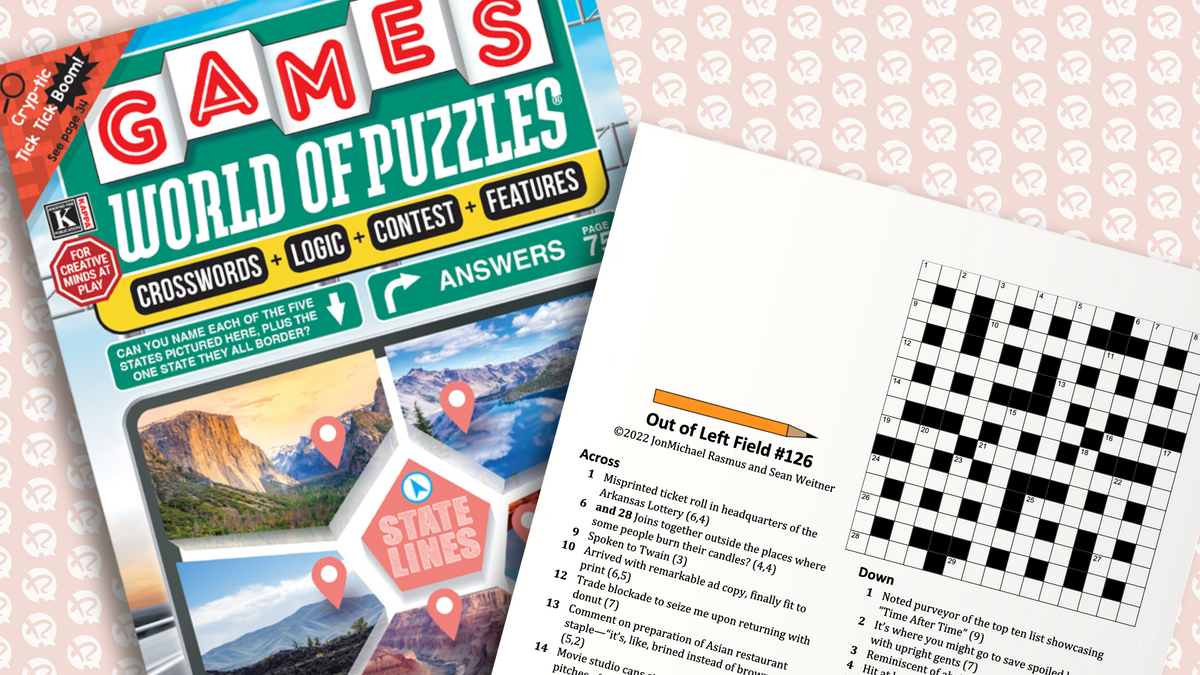 For those of you who have newly arrived from Out of Left Field or GAMES World of Puzzles, welcome to The Rackenfracker! We've been publishing variety cryptics since March, and we'd love it if you gave them a try. Puzzle critic Aaron Riccio of Crossword Scholar has called our work "delightfully challenging" and "simply dazzling." If you want to take a spin, all the puzzles are here and we've got some notes and recommendations below. And may we recommend the newsletter link to your right as a way to keep up with new puzzles as they're published?
Rackenfrackers are variety cryptics in the American style, meaning they're (usually) clued like a standard cryptic but have an additional gimmick or two that need to also be figured out while solving. For instance, most of our puzzles to date have been different takes on the idea of a jigsaw cryptic, in which you have to deduce where in the grid each answer will go. We think the extra logic required makes your aha that much sweeter.
For those of you who have been here all along but might not have heard the news: Guess who guest-wrote this week's 15×15 cryptic for Out of Left Field! If you enjoy how our clues sometimes take liberties, you should know that we consider Joshua Kosman and Henri Picciotto to be the Postmasters General of fair play envelope-pushing. Or perhaps the DMV clerks that give us license to explore the back alleys of wordplay? I don't know, we've overextended this metaphor, but it was truly an honor to get to work with them to bring this puzzle to their solvers. If you're not a subscriber to their cryptic-a-week service, it's 92¢/puzzle for some of the freshest, most exciting clueing in the game — and it's the only way to play our new puzzle.
And for those who have not read "Cryp-tic Tick Tick Boom," Hayley Gold's fantastic overview of the US cryptic scene in the September 2022 issue of GAMES World of Puzzles, you all owe yourself that — for non-subscribers, it should be on newsstands* soon. We were fortunate enough to have The Rackenfracker appear in the magazine's listing of independent cryptic purveyors, alongside some of the best and brightest puzzlemakers around — we're humbled by our inclusion, all the more so because we've been reading GAMES our whole lives. Hayley brings the same verve that she brought to her puzzle-laden graphic novel Letters to Margaret to her survey of the American cryptic scene.
Our most recent variety cryptic is a preview of our upcoming subscription series: Word▶️ (pronounced "Word[Play]"), which is a suite of 12 variety cryptics themed around pop culture from the 1980s to today. The first puzzle, aptly titled On First, is available as a preview for another week, and the monthly series launches in earnest in September. We're getting good reports from Twitter solvers:
"The solve and aha moment were super enjoyable." Nate Cardin (@nayynaytnayt), cryptic constructor for The Browser
"Reader, when I figured out the gimmick I gasped."Jeff (@tinmanic), hoopy frood
Recommendations! We love being part of the Twitch community of cryptic crossword streamers, who broadcast their solves and often invite viewers to solve along with them. We asked three streamers who have been solving Rackenfrackers since #1 which puzzle they would most highly recommend.
@danandbabka picked Rackenfracker #8: In One Basket, our collaboration with George Ho — "It's extremely fun to solve with egg and bird puns aplenty. It's a challenging puzzle with a gigantic misdirection that comes together beautifully during the solve — a satisfying cryptic, the best kind."
@cypherhouse picked Rackenfracker #3: Surface Dive — "Coming from a puzzle hunt background, I enjoy two things about variety cryptics: interesting/fun mechanics, and a clever endgame/final solution. Surface Dive has both of these features! What seems at first to function like a normal cryptic slowly opens itself up, like a puzzle box, as one pokes and prods at the themed clues. Eventually the mechanisms become clear and everything is tied together nicely by the central entry in the grid."
@elderism picked Rackenfracker #4: Calculating Route — "The penny dropped so hard in Calculating Route it single-handedly stopped inflation. Now I can finally afford the therapy I need to recover from my crossword addiction. Thanks, Rackenfracker."
Thanks to these streamers, all of whom have our heartiest endorsement as a great place to hang out and solve cryptics. If Twitch is new to you, we really do recommend that you check it out if the idea of a virtual puzzle salon appeals to you in the slightest. You can even find (half of) us on Twitch at twitch.tv/jmsr525.
We will say that our streamers picked some of our harder puzzles. If you'd prefer a gentler step into variety cryptics, Rackenfracker #7: Rock Bands has the smallest possible amount of variety-puzzle fussing , Rackenfracker #5: Song of the Summer is likewise pretty straightforward, and Rackenfracker #1: Academy Awardle is, as you might guess, part cryptic and part Wordle.
We're really glad you're here; we hope you find a puzzle you like enough to want to stick around, and that you'll join us on our Word▶️ adventure. Don't forget the newsletter, or that you can follow us on Twitter @rackenfracker.
* Barnes & Noble's magazine racks and … um ….